About Us
The Bay Area's Leader in Gutter Protection
Gutter Helmet of the North Bay is a family-owned and -operated company that specializes in installing, repairing and maintaining gutters, as well as installing Gutter Helmet®, the industry's #1 brand of gutter protection. We hold a general license and can handle any type of project management. We occasionally use subcontractors that we have a close relationship with and trust if they are more experienced at a certain skill. We focus on professionalism and absolute customer satisfaction.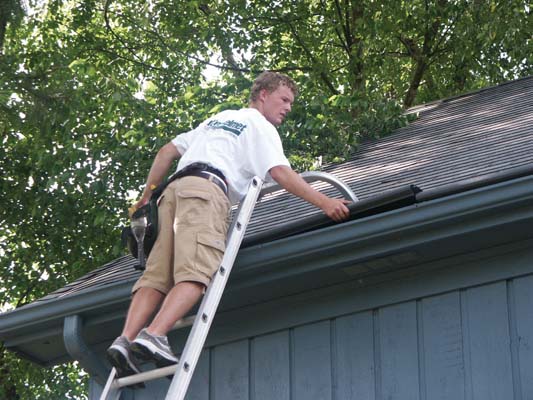 Since 2005, Gutter Helmet of the North Bay has installed the highest quality gutter protection system on over 1,500 homes in the greater San Francisco Bay area.
Handling Every Project With Care
Gutter Helmet is the first choice of many homeowners across the country when it comes to keeping gutters clog-free. With its revolutionary nose-forward design, trouble-causing debris is kept out of the gutter while rainwater and snowmelt safely flow down your spouts unobstructed, preventing numerous problems. Gutter Helmet gutter covers are designed with durability in mind, and are built to last for years with low maintenance requirements.
To ensure the quality and performance of our products, Gutter Helmet of the North Bay relies on a team of highly trained professionals, each with years of experience in installing Gutter Helmet gutter guards to exact manufacturer specifications.
In line with our dedication to providing excellent service, our team of analysts always keeps a close eye on average costs of materials and services in our service areas to keep our material prices and service rates customer-friendly. We handle each project with the utmost care and professionalism – not just to ensure quality, but to build good and lasting relationships with our clients.
Schedule a Free Estimate for Any Service
Thousands of customers can't be wrong! Contact Gutter Helmet of the North Bay today for all of your gutter protection, gutter cleaning, gutter installation and gutter repair needs. Call (707) 584-4700 or fill out our contact form.