You Can't Go Wrong With Seamless Gutters
Seamless gutters are an important part of a residential roofing system. Seamless gutters are visually pleasing and provide no gaps for debris to get lodged into. Here at Gutter Helmet of the North Bay, we are experts in the manufacture and installation of seamless gutter systems.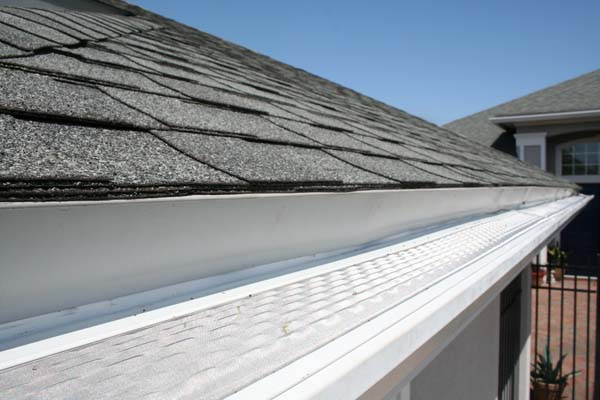 Many people ask us if all gutter systems are seamless. The answer is no, but they should be! Not only are these systems beautiful to the eye, they are highly functional. When we provide you with gutter installation, gutter repair or anything else that would require a new gutter system to be needed, we will make it seamless.
Advantages of Seamless Gutters
Seamless gutters are crafted from a single piece of metal using a specialized press. We will bring this machine to the job site, which allows us to produce custom lengths of guttering that exactly match your home. The benefits of a seamless piece of guttering boil down to simple physics: seams are weak spots that are likely to leak or crack and break. By minimizing the number of seams along the gutter trough, the result is a much stronger, watertight system. Seamless gutters are the industry standard among professionals for the following reasons:
A custom fit. Get a perfect fit every time with custom-made seamless gutters for your home.
Reduced maintenance. With fewer seams and joints, seamless gutters don't collect as much debris as sectional gutters, reducing cleaning and maintenance demands.
Fewer clogs. Seamless gutters reduce the build-up of leaves, twigs and other matter inside the gutter, preventing the formation of clogs.
Fewer leaks. Any point where two gutter sections meet allows the possibility of leaks and holes. Seamless gutters have fewer joints and fewer leaks.
A beautiful finish. With fewer joints, seamless gutters are more aesthetically appealing and come in a wide variety of materials and colors.
Contact Us for a Free Gutter Estimate
Want to learn more about seamless gutters and how they can help you? Contact Gutter Helmet of the North Bay at (707) 584-4700 or fill out our contact form. Whether you have questions, want a quote or are ready to install a new seamless gutter system, we would be happy to hear from you.